Blog
2012-11-06
Trader Sonskyn Trading Journal
Just to recap I'am following a strategy based on a daily chart setup. The rules are simple:
1. Only Currency Pairs of which one must be in the strong corner and the other in the weak corner….
2. Only when my trend indicator confirms that the daily chart is trending up or down may I even look for entries.
3. My signals are generated by an Oscillator indicating when the market is overbought or oversold.
Simple and easy, the catch is when you are eager to trade and you are looking at a daily chart the signals can take days to manifest…. So you need to SIT ON YOUR HANDS!
Current trades and their status…
1. NZDCAD: buy : 1/11/2012 Two of my rules where met and the trend is strong, made use of a h4 setup to get entry into this trade currently negative 40 pips but all the rules are now in play giving another signal so I will sit tight.
2. EURAUD: buy 1/11/2012 All three my rules were in place, closed the trade today with a 150 pip profit. What a stunning trade!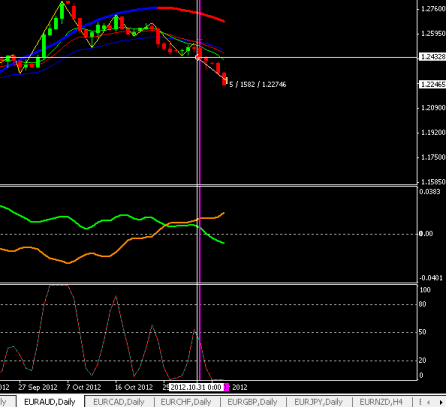 Took two new trades this morning:
3. AUDCAD: buy :6/11/2012 All three my rules were met, the signal did present itself in the early hours of the morning so I got in a bit later, but I am still confidant this will work. Currently in 24 pip minus. Sit on hands…
4. AUDCHF: buy: 6/11/2012 Two of my rules were met, just the oscillator that is overbought. Due to the strength of the trend and the match of the currencies I decided to take a trade on a one hour chart. So anything can happen, will watch this one closely.

Thank you and happy trading!!